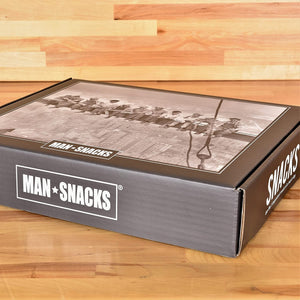 Product image 1
Product image 2
Product image 3
Product image 4
DELUXE MEAT. Beef and Bacon. What more can we say? Is there a gift more manly than a deluxe meat box? We think not. We pack an awesome assortment (over 5 lbs) of beef, sausage, cheese, mustard and snacks in our manly, fun, ManSnacks gift box that will live on for years in his office, man cave, or garage. He's gonna love it.
WHAT'S INSIDE: Bacon Jerky, Bacon Mustard, Lowrey's Pork Rinds, Bacon Jam, Bacon Stick, Bacon Brittle, Bacon Hot Sauce, Bacon and Garlic Almonds, Three Summer Sausages, Sharp Cheddar Cheese, Beef Truffle Jerky, Beef Jerky, Beef Bar, Sesame Jerky and Stone Ground Mustard. We may make minor substitutions based on availability, but they'll still be awesome and he'll love them.
COMES IN A MANLY GIFT BOX. We pack over 5 lbs of delicious grub in a big, manly, 16" x 12" x 3.5" ManSnacks branded box that is sure to become part of his man cave, garage, or office to store all sorts of manly things.
WE PROUDLY SUPPORT DISABLED AMERICAN VETERANS. We take great pride in every ManSnacks gift we make, and every sale supports disabled American veterans.
100% SATISFACTION GUARANTEE. We stand behind every ManSnacks gift we make. If you are not completely satisfied, please let us know and we'll make it right.